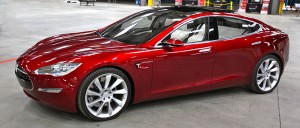 You have forgotten to plug in your Tesla after a long day of driving and the next morning you wake up to find out your battery is low or completely depleted. What about a robot which plugs itself in without any human assistance? You only have to stick the car in the garage and let the robot charger do the rest.
The California-based electric carmaker Tesla Motors has recently unveiled its prototype car charger device that "automatically moves out from the wall and connects like a solid metal snake".
Tesla team has been working for several months on the project and now, after the company has released the video of the charging station prototype online last week, we are not disappointed at all.
The device, which has been dubbed Snakebot, appears to automatically locate the electric car's socket and charge it with power. And Tesla officials say it could work with every Model S on the road. Unfortunately, there is no further information about when customers can expect to see the autocharger device at charging stations. Many people think it looks like a giant robotic snake as it moves slowly while plugging in.
The autocharger might look a little weird, like something from science fiction but it is a fact and Tesla motorists could soon have one in their garage at home.