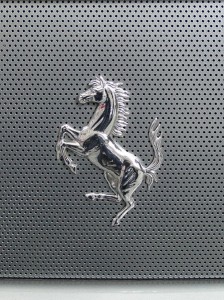 Ferrari unveiled its new supercar, F60 America.
On the 10th day of the 10th calendar month, Ferrari announced the launch of a new limited edition on its website: a special edition version of the F12 Berlinetta sports car. Only ten examples of the new model will be produced and they have already all been purchased.
The official reveal took place at an event in Beverly Hills, California on Saturday and marked the automaker's celebration of the 60th anniversary of Ferrari sales in the US market.
In addition, 60 of the best and rarest models that the Italian company has produced since 1954 were shown at the official event.
The F60 America is equipped with a 6.3-liter direct-injection V-12 engine delivering power to the rear wheels via a seven-speed dual-clutch automatic gearbox and producing 730 horsepower at 8.500 rpm. The car can do 0-62 mph in just 3.1 seconds and has a top speed of more than 200 mph.
The new model is convertible with a powered fabric roof which can be opened and closed at speeds up to approximately 75 mph. Outside, the Ferrari F60 America features the blue-and-white color scheme, inspired by 1960's North American Racing Team Ferraris. The interior has an asymmetrical design: the driver's side finished with red trim while the passenger's side is black and stripes on the seats reminding of Old Glory.
The F60 America is expected to be the most expensive Ferrari ever launched. Although, information on the price for the limited edition has not been publicly provided, earlier reports suggested the supercar would cost between $2.5 and $3.2 million.
For more details see the video