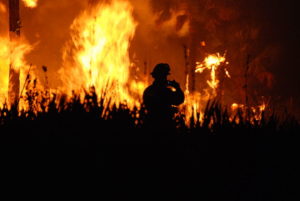 Wildfires that spread across more than 600 acres in central Florida's Polk County were being investigated as suspicious, officials said. The Indian Lake Estates subdivision encompasses 800 homes and 8,000 lots. All of them were put under a mandatory evacuation due to the large wildfire The authorities suspect the fire may have been purposefully set, said a spokesman for the sheriff's office.
The mandatory evacuation of the Indian Lake Estates community was lifted Saturday at 4 p.m.
The fire that burned at least 600 acres on Friday and destroyed one business, was 60 percent contained Saturday afternoon. Extremely dry conditions fueled the fire.
Governor Rick Scott had declared a state of emergency on April 11 due to dry conditions in Florida. He ordered National Guard troops deployment to help residents to safety and authorized the use of five UH-60 Blackhawk helicopters to help fight the fire.
Three separate wildfires have been popping up across parts of Florida for weeks and thousands of residents were forced to evacuate. 5,500 acres were burned and nine homes were destroyed in Collier County near Naples, said a spokesman for the Collier County Sheriff's Office. Authorities are strongly urging residents in the mandatory evacuation zone to leave as soon as possible. 10 aircraft flew over the blaze attempting to drop water on the flames.
Indian Lake Estates has been hard hit by fires in recent months. The campgrounds have seen several large blazes earlier this year, then seven new fires broke out in the same area over the few days. Investigators believe many of them were intentionally set, but they don't have much hope of identifying the culprits.
All major roads that were closed because of smoke and poor visibility have reopened, the Florida Highway Patrol reported this morning. State Road 528, State Road 407 near Cocoa and State Road 44 in Lake County are open.