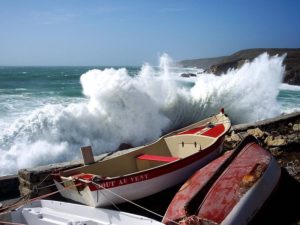 Airports and cruise ports shut down, trains are suspended and theme parks are closed as Hurricane Matthew began hitting Florida Thursday afternoon. Matthew is the most powerful storm to hit the state in the past decade.
A number of airports shut down in anticipation of Hurricane Matthew. Sanford International Airport closed at 8 p.m. Thursday, October 6. Officials said in a release that "due to current predictions" the airport would be forced to close and passengers should not go there until commercial flight activity resume. The announcement doesn't give further information about when the airport is planning to reopen.
Orlando International Airport closed at 8 p.m. Thursday and announced plans to restart commercial flight operations on Saturday but only after assessing any possible damage.
Fort Lauderdale airport shut down at 10 a.m. on Thursday and Palm Beach airport closed at noon. However, Miami, Tampa and Jacksonville International airports said that they have no plans to close, continue monitoring the storm and warn the passengers to check their flights with the airlines.
On Thursday, Amtrak suspended service to destinations in Florida's East Coast. SunRail commuter rail service was suspended Thursday afternoon with plans to resume operations on Monday, according to Florida Department of Transportation. Major tolls in Central Florida were closed, too.
The unpredictable Matthew forced six U.S. cruise ports to shut down. Port Miami, Port Everglades, the ports in Jacksonville, Palm Beach and the port of Key West have closed to all vessel traffic. Port Canaveral closed its cruise and cargo operations on Wednesday. Port Canaveral CEO John Murray said in a statement that the protection of people and property is of primary concern and the port has prepared its facilities so "business can resume as quickly as possible after the storm."
A number of theme parks in Central Florida also closed due to the severe hurricane. Orlando's big theme parks are continuing to monitor the storm's path and some of them announced their closures. SeaWorld and Legoland closed on Thursday, October 6, while Universal and Disney only reduced hours of operations.