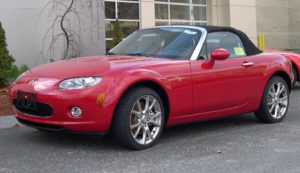 Mazda has been taking the Millionth Miata on a world tour.
Mazda Motor Corporation has announced that production of the Mazda MX-5 Miata reached the milestone of one million Miatas made on April 22. It took them over 27 years to achieve that number with all of the units put together at their Ujina plant in Hiroshima where MX-5 mass-production started in April 1989.
The Mazda MX-5 Miata is a symbol of the company's car-making philosophy of continuous pursuit of pleasure from driving.
The Japanese automobile manufacturer introduced the first Miata at Chicago Auto Show in winter of 1989. The company promised to deliver the 1990 model for $14,000. In the late spring of 1989 the company started delivering the Miata with a base price of $13,800. Customers and the media went crazy about it. Through the years, the MX-5 has won over 200 awards to its name from all over the world. The latest fourth-generation Miata debuted last year and has won until now a series of awards, such as World Car Design of the Year 2016, World Car of the Year and 2016 Car of the Year Japan. Furthermore, Miata has held the Guinness World Record for the best-selling open-top 2-seater sports car for years.
The One-Millionth Miata is a right-hand-drive soft top Japanese model in red, equipped with a 1, 5 liter SKYACTIVE- G engine. The vehicle will be displayed at fan events around the world as a way of expressing thanks to all MX-5 owners. The car will be accompanied by the classic red 1990 model that made Miata's world debut at Chicago Auto Show in 1989.
The tour started on May third at the Hiroshima Flower Festival. At each tour stop, the first 240 fans can sign the One-Millionth Miata and get MX-5 badge with their names engraved on it. The US tour began August 8 in Monterey,California; September 3, the One-Millionth Miata stopped at Chicago where it all began in 1989 and September 10- Jacksonville, Florida- Duval Mazda at the Avenues and September 17 expect the MX-5 at Daytona Mazda, Daytona Beach, Fla.
The final stop of the tour is at Mazda Raceway Laguna Seca in Monterey, California on October 1-2. Tour stops were chosen based on MX-5 sales history and owners clubs' enthusiasm and interest.