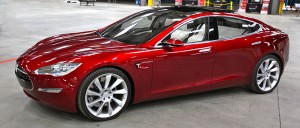 Tesla Motors has just unveiled the world's fastest production car.
On Tuesday, Tesla Chief Executive Officer Elon Musk confirmed the arrival of new 100-kilowatt-hour battery packs for the dual-motor versions of the Model S and Model X.
The new Tesla Model S P100D with Ludicrous mode will hit 60 miles per hour in 2.5 seconds, thanks to the bigger, 100-kWh lithium ion battery which is an improvement on the 90kWh battery currently available. Ludicrous mode will make Tesla Model S the world's third fastest car currently in production, behind the LaFerrari and the Porsche 918 Spyder. These last are seriously expensive, limited-production two-seat sports cars with very little luggage space that cost $1.4 million and $845,000 respectively. While all-wheel drive pure electric Model S P100D comes with four doors, seats for five adults plus two children and has exceptional cargo capacity.
The upgrate will also make the Model X the world's quickest SUV that can accelerate to 60 miles per hour in 2.9 seconds. The P100D models are the first production electric vehicles with a range of more than 300 miles, rated at 315 miles on the EPA cycle and 613 km on the EU cycle. The new P100D Model X is available now, starting at $135,500, while Model S version starts at $134,500.
Tesla customers who currently drive a Model S or Model X P90D Ludicrous can upgrade to the 100 kWh packs for $20,000 as their used 90 kWh pack will have to be recycled. Tesla riders who have ordered a P90D model, but not taken delivery yet, can upgrade to the 100 kWh pack for $10,000.
Are you ready to spend extra cash for a 0 to 60 mph improvement?