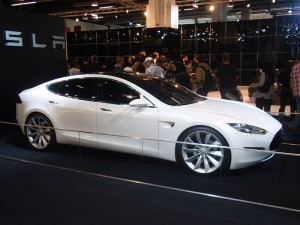 The biggest factory in the world, the new Tesla Gigafactory, will be run by robots, boasted Elon Musk.
Electric car maker Tesla Motors has announced that it has entered into an agreement to buy Germany's Grohmann Engineering to accelerate its production rate, the automaker said in a blog post.
Grohmann Engineering is based in Pruem, Germany and specializes in highly automated manufacturing techniques. The German firm has production lines for battery and fuel cells and produces batteries for numerous German and international automobile manufacturers.
After the acquisition, the firm will be renamed Tesla Grohmann Automation and will serve as the base for Tesla Advanced Automation Germany. Tesla did not say how much it was paying for the German firm, however, it said in its blog that the deal will add 1,000 engineering and skilled technician jobs at Grohman over the next two years. The German factory has around 700 employees at the moment.
Since its inception in 2003, Tesla has made only few acquisitions. The automaker bought Michigan-based autoparts maker Riviera Tool last year and the proposed $2 billion merger between Tesla and its sister SolarCity.
Tesla produced 50,648 vehicles in 2016 and it is currently on track to deliver about 80,000 cars this year. The automaker is planning to raise its global manufacturing capacity to 500,000 cars in 2018.
Tesla noted that it has increased the production rate at Fremont Factory by 400 percent in four years, and Grohman acquisition is expected to accelerate that growth rate.