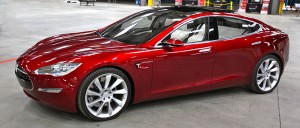 Tesla Motors Inc. has announced the activation of Autopilot features for cars equipped with the "Hardware 2" camera and sensor set.
Tesla is now beginning to roll out upgraded software to customers with newer cars that launched in October. All Model S and Model X electric cars built since then are fitted with Hardware 2 that includes eight cameras, radar, 12 ultrasonic sensors and a new supercomputer.
Elon Musk, CEO of Tesla Motors, announced two months ago that all electric cars being produced at the factory in Freemont, California, are equipped with the new Hardware 2, packed with so many sophisticated sensors, that it would be able to provide fully autonomous driving capability by the end of the year. Then Musk warned that the vehicles initially would lack some of the features currently available on "first generation autopilot" of Tesla vehicles as the company needs more time to fully test and validate the software.
Although fitted with more sensors, Hardware 2 vehicles have until now missed out certain features previously available on autopilot driver-assist system offered on earlier Tesla vehicles. The update includes things like automatic emergency breaking, active lane control, collision warning, and adaptive cruise control.
All Tesla vehicles produced since October 2014 have featured autopilot hardware, allowing the electric car maker to collect more than 1,3 billion miles of data from diverse driving and weather conditions.