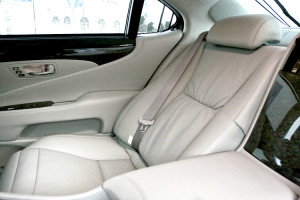 Keeping calm and alert while driving could become easier with the new health- monitoring car seat, called Active Wellness. According to the developer Faurecia, it is the world's first car seat that actively monitors a driver's physical and mental status and offers on-the-move therapy.
The Active Wellness seat has been developed over five years by Faurecia, one of the world's largest automotive equipment suppliers. The Faurecia team has worked in collaboration with the Spine Research Institute at Ohio State University in the United States in order to develop tools to measure comfort in real-time and ways to help alleviate discomfort. They also teamed up  with NASA engineers to review and improve ways to collect a person's vital signs with sensors that do not touch the skin. These non-contact sensors used inside the smart seat were built by American company Hoana Medical and Faurecia has obtained exclusive use of this technology for automotive appliances.
At the Frankfurt Motor Show, where the Active Wellness seat was on display, Olaf Biedermann, director Innovation Europe, Faurecia Automotive Seating, said that they have "a unique technology integrated": piezoelectric sensors integrated in the seat cushion.
The Active Wellness seat uses a biometric sensing system built into the seat lining. The system can detect if the driver has a drop in energy levels or when he is under stress. The system responds with a massage pattern along with air flow through the seats' ventilation system. The system measures the driver's heart rhythms and breathing and the data is used to calculate their mental and physical state. A message appears on a screen in the cabin offering treatment. If the driver accepts the recommendation, they will receive a massage, along with a warming or cooling sensation. The driver could feel either relaxed or energized.
The developers say their intelligent car seat could be on the market by 2020.