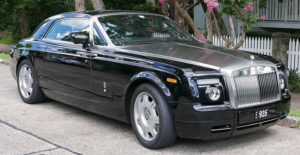 Cullinan has arrived and it is definitely the ultimate luxury SUV. The Rolls-Royce Cullinan SUV made its world debut in London on Thursday.
Rolls-Royce has officially joined the off-road club. Bayerische Motoren Werke AG brand took the wraps off its first SUV, revealing to the world a $325,000 machine.
As expected, from hints Rolls-Royce has dropped in recent months, the Cullinan comes with a 6.75 liter, twin-turbo V12 Rolls-Royce engine that delivers 563 horsepower and 627 pound-feet of torque. This is the same engine Rolls-Royce put in the Phantom, which also shares the SUV's aluminum-intensive platform.
The model is named after the largest diamond discovered to date. Cullinan is the first SUV in the brand's century-long history. The new monster will be built on Rolls-Royce's new Architecture of Luxury aluminum platform. Under the hood, there is a 6.75 liter, 563 horsepower, twin-turbocharged V12 that can power the Cullinan up to a top speed of 155 mph. The new Rolls-Royce Cullinan comes with a price starting at $325,000.
Over the past years, the global demand for crossovers and SUVs has been skyrocketing while the market for traditional sedans has contracted. This change in demand has been felt with traditional sports and luxury brands like Porsche, Jaguar, Maserati, and Alfa Romeo all of them going on SUVs. In 2016, Bentley became the first ultra-premium brand to launch an SUV when it debuted its Bentayga V8 in 2016. Shortly after that, Lamborghini unveiled its 190 mph Urus SUV.
If you have got the funds, you might have a chance at getting a Cullinan—unlike the Lamborghini, which has already sold out its first two years of Urus production. Early sales of Cullinan are expected to include 20 percent to 30 percent bespoke orders, which will push up the price immensely.
According to Bloomberg.