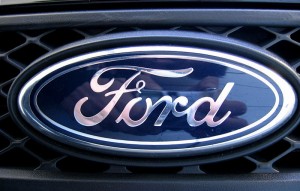 The undeniable star that is taking all the headlines at this year's Detroit Motor Show is the new-generation Ford GT, an ultrahigh performance supercar. The machine is described by the Blue Oval brand as its "most extreme offering" ever built that features "race-proven" technology.
The 2017 Ford GT is powered by what Ford claims to be the most powerful EcoBoost production engine ever, a next generation twin-turbocharged 3.5-litre V6 producing more than 600 horsepower. The old GT's manual transmission is replaced by a seven-speed dual clutch shifter. The car will reach from 0 to 60 mph in just 3 seconds and a top speed of more than 200 mph.
By the stunning GT supercar Ford sets new standards of performance with advances not only in EcoBoost technology, but also in light-weighting and aerodynamics. The supercar status is achieved by extensive use of lightweight materials, including carbon fiber and aluminum which enables outstanding acceleration and increases dynamic performance and efficiency.
Aerodynamic efficiency is at the heart of the GT supercar design. GT low-slung and tear-drop design is a modern take on the retro styling of the original GT40 with a shape that harks back to the 1960s racer and a muscular modern twist. Every slope and shape is designed to actively reduce drag while optimizing down force and stability. The upward swinging doors reveal a two-seat cockpit with the seats integrated directly into the passenger cell and an F1-inspired steering wheel.
Other highlights on the all-new GT include a deployable rear spoiler, 20-inch wheels shod with Michelin Pilot Super Sport Cup 2 tires that are uniquely designed for the Ford GT, all-new SYNC 3, the latest version of Ford's advanced connectivity system, as well as many other technology innovations that Ford says will help better serve the driver.
The 2017 GT will go on sale in late 2016 to mark the 50th anniversary of Ford GT winning the Le Mans in 1966.The new GT beast is expected to cost around $380,000, so it's time to start putting aside. Until then, watch the video here.