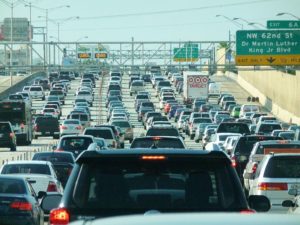 China started tracking the movements of all new vehicles. The government says it would help track congestion and public security, but there are some concerns that it is likely to become another surveillance tool.
The program that the Chinese government started will make it possible to track citizens' cars using RFID chips installed on windshields which will help study and manage traffic, pollution, and public security. The program started rolling out on July 1st and will be voluntary at first but mandatory for new vehicles in 2019.
By forcing drivers to have chips installed on their vehicles, China's Ministry of Public Security, and the ministry's Traffic Management Research Institute will also help bolster the domestic chip industry.
By using RFID chips, the government officials reportedly hope to be able not only to study and improve congestion, and to reduce pollution which is currently a major priority for China, they also hope to use it to prevent the rise of vehicular terrorist attacks.
The system is able to locate a car at any given moment or location, like with GPS, however, it is unclear how much information the government plans to store on each chip beyond the color of the car and its license plate number. This is not the first time a government wants to implement a system of its kind. Mexico is working on introducing a similar system, and countries like Dubai, South Africa, Brazil, and India use RFID chips for paying for gas, parking, and tolls, as well as tickets and collecting penalties.
According to The Verge.