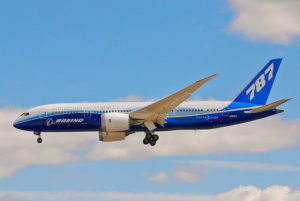 Boeing 787 Dreamliner took a 4,000-mile flight for 17 hours to trace an outline of itself in the skies above the US.
The flight started from Boeing's Seattle headquarters in Washington at 11 pm last Tuesday. Aviation fans were able to track its unusual route avidly while cruising continually at 41,000 feet when the flight track began to take shape using flightradar24. The outline hit 17 states and spans from Michigan's Upper Peninsula to the tip of Texas.
In a staggering stunt that has provoked admiration and amusement, the aircraft managed to draw a perfect outline of a massive Dreamliner in the skies over America.
This flight path kept the plane in the air for 17 hours and 46 minutes and covered 9,897 miles which is longer and farther than the longest commercial route, between Doha, Qatar to Auckland, New Zealand that lasts 16 hours, 10 minutes and covers 9,021-mile distance.
First, the pilot headed east across Montana and Dakota. Then made a sharp turn when it reached the coastal city Marquette in Michigan State. The Boeing went over the central states of America, carving out a drawing of a Boeing on its route. The picture's port wing tips 'touched' the bottom of Texas and its tail got close to New Orleans. When the outline was nearly completed, the plane made its way back to Seattle.
According to sources, the flight was not a pointless waste of fuel. Boeing used the long flight to test a new Rolls Royce engine.
According to DailyMail.