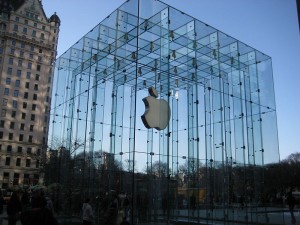 Speaking on Monday at WSJD Live, the Wall Street Journal's technology conference in Laguna Beach, California, Apple's Chief Executive Tim Cook predicted there would be "massive change" in the auto industry in the coming years. Cook did not comment on numerous rumors and reports that Apple is working on developing its own electric car.
However, Cook repeated the two words "massive change" several times. He added that when he looks at the automobile what he sees is that "software becomes an increasingly important part of the car of the future" and that "autonomous driving becomes much more important."
Cook's comment comes after widespread rumors that the iPhone maker has designated devloping an Apple-branded car as a "committed project" and  is reportedly preparing to follow tech giant Google in building a self-driving or electric car which will be put on sale as early as 2019.
Apple's in-car computer system, called CarPlay, was a great success and allows cars to display calls, play music and talk to Siri. Cook noted that his company was currently working on the project to bring this "iPhone experience" into cars, but with more functionalities.
Sources have said that Apple has been studying self-driving technology. The company has hired several top experts in driverless cars as part of its effort to build a team of experts in automated driving. The former Tesla Motors Autopilot Firmware Manager Jamie Carlson is currently working at Apple on "Special Projects." Other experts that have recently joined Apple's team are Megan McClain, a former Volkswagen engineer with expertise in automated driving, Vinay Palakkode, a graduate researcher at Carnegie Mellon University, and Xianqiao Tong, who developed driver assistance systems for NVIDIA.
It is rumored that Apple has also been testing locations to develop its car and company representatives are meeting California officials to discuss regulation.
Obviously, there will be an Apple car in our future as the company has entered the competiton. However, it remains to be seen how it would look and perform.