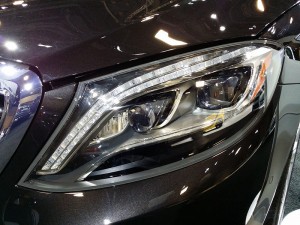 Mercedes unveiled the first official details about the new Maybach Pullman S600 limousine only a few days ago. The ultra-long-wheelbase version of the Mercedes-Benz will take the S-Class range to a whole new level of luxury.
 With an impressive length of 255.9 inches, the Pullman gains an extra 3.5 feet over the Mercedes- Benz S class and it's also four inches taller. The wheelbase stretches 14.5 feet and the Pullman boasts a rear compartment resembling a "club lounge", according to the producer.
 Upholstered in leather throughout, the interior of the Mercedes-Maybach Pullman is the definition of opulence. The glass partition wall between the rear-facing seats and the front chauffeur's compartment can be lowered or changed from transparent to opaque at the touch of a button. There's an 18.5-in widescreen monitor in front of the partition that can also be extended electrically.
 The Pullman is fitted with drink chillers and roof-mounted displays showing the outside temperature, speed and time. There's a standard Burmester surround sound system, as well as an optional Burmester 3D surround-sound system and tons of other customizable features.
 Under the hood lies a V-12 twin-turbocharged 6.0-liter engine that produces 523 horsepower and 612 pound-feet of torque.
 The Mercedes-Maybach Pullman is intended for VIPs only. The starting price for the unarmored models is approximately $600,000. Almost every detail of the interior is customizable and armor is also available. An armored version of the Pullman is likely to become the most expensive car in Mercedes history. The first Pullmans will be delivered in non-U.S. markets in early 2016, said officials from Daimler.
 The new Mercedes-Maybach Pullman will officially make its debut at the Geneva Motor Show in only a week, coinciding with the 50th birthday of the iconic Mercedes-Benz 600. There are reportedly a few juicy details that will be revealed at the show, so stay tuned for more info.