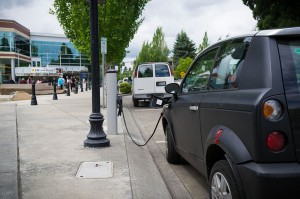 Volkswagen is planning to sell more electric cars in the US and wants to build a massive electric car charging network across the country.
The German automaker will spend millions of dollars on building out the country's underdeveloped charging infrastructure. Electrify America, a VW subsidiary, has recently announced their plans to install EV charging stations at more than 100 Walmarts in 35 states by 2019. The news came a few days after Porsche, which is owned by VW Group, announced it wants to build 500 of its own EV charging stations across the country.
The Walmart charging stations are part of a broader Electrify America plan to build 2,000 chargers at 500 charging stations all over the country by mid- 2019. Mark McNabb, president and CEO of Electrify America said that the owners of electric cars needed "a convenient, reliable and fast turnaround in recharging their vehicles," and according to the company, Walmart is the perfect partner for Electrify America "to bring electric charging services to EV owners who value their time."
Both VW and Porsche will spend billions of dollars on rolling out new electric models in the years to come. Only a few months ago, Porsche announced it would double its investment in plug-in hybrids and pure EVs by 2022 to more than $7.5 billion. The Mission E, their first electric vehicle, is considered as one of the first real competitors to the Tesla Model S and Porsche claims their Mission E would be able to charge in only 15 minutes. A second EV, based on the Mission E Cross Turismo concept, is planned to debut in 2020.
According to TheVerge.