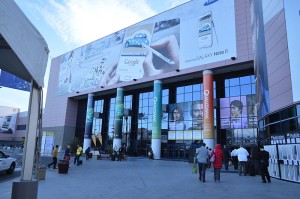 The Mercedes F015 Luxury in Motion, a revolutionary concept of autonomous vehicles, made its debut on Monday night and became the star of this year's Consumer Electronics Show in Las Vegas. With the luxury sedan F015, the leading German auto manufacturer shows how luxury self-driving cars might look and feel after 2030, only 15 years in the future.
 The designers of the F015 envision the self-driving car of the future not just as means of transportation; instead, they turn it into a private lounge on wheels. Over 17 ft. long, the sleek four-door F015 with futuristic appearance is approximately the length of a Cadillac Escalade SUV which gives the interior a lot of extra space.
 Inside, four rotating electrically powered, lounge chairs allow a face-to-face seat-configuration and the passengers aboard can work, relax or communicate in a luxury ambience. Six display screens turn the lounge into a digital living space as passengers can interact with the car through gestures, eye-tracking or by touch. One of the key aspects of the concept car is the continuous exchange of information between passengers, vehicle and the outside world.
 As the F015 is made of carbon fiber, aluminum and high-strength steel, it is 40 percent lighter than a conventional car of the same size. The systems of the self-driving car are guided by ultrasonic sensors, radars, hyper precise GPS and stereo cameras. The headlights light up white if the car is in manual mode and blue when it is autonomous.
The Mercedes F015 is a rechargeable hydrogen fuel cell vehicle. The battery recharges when the car parks on a charge pad: a technology that will likely be used as an alternative for plug-in electric vehicles before the F015 goes on sale. The car also has a fuel cell powered by tanks of compressed hydrogen. According to the company, with the hybrid system, the vehicle has a range of 700 miles on purely electric power and with zero local emissions.
The F015 Luxury in Motion is undeniably a bold step into the future of autonomous cars and the question is not if this car will hit the road, it's when. Enjoy the autonomous car of the future here.