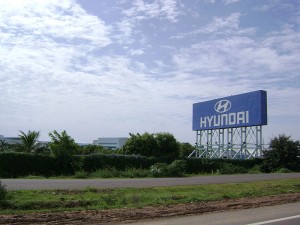 The South Korean automakers Hyundai Motor Co. and Kia Motors Corp. agreed to pay the federal government a combined penalty of $300 million for a violation of the Clean Air Act and overstating vehicle fuel-economy standards on 1.2 million cars, Justice Department and E. P. A. officials said last Monday. This is the largest such penalty of its kind. The settlement could create a pricey precedent and is meant to send a clear message to other automakers.
Attorney General Eric H. Holder Jr. and Gina McCarthy, the Environmental Protection Agency administrator announced at a press conference at the Justice Department that the action is part of a wider and more aggressive enforcement attempt by federal regulators on the automaker's industry.
Under the terms of a voluntary consent decree, the two companies will pay $100 million in fines and forfeit $200 million in greenhouse-gas emission credits. Automakers earn the credits for building vehicles that emit less greenhouse gas pollution than are required by the law.
A complaint filed by federal regulators and California state officials accuses Hyundai and Kia, both owned by the Hyundai Motor Group, of misstating the emissions performance of more than 1.2 million cars and SUVs from the 2012 and 2013 model years which allowed the companies to earn greater profits while misleading consumers about the environmental impact of their cars. Affected vehicles are some of companies' most popular models including Hyundai Accent, Elantra, Santa Fe, as well as the Kia Rio and Soul.
The problem was discovered during a routine audit by the E.P.A. The officials concluded that the Korean car makers' testing of fuel economy technologies resulted in inaccurate numbers. The companies had exaggerated their cars' fuel efficiency basing their pollution figures only on the most favorable test results instead of averages.
Both Hyundai and Kia apologized and called the misstatement of fuel mileage "procedural errors" and claimed that they did not intentionally mislead customers.
According to Chris Hosford, a Hyundai spokesman, regulations don't specify exactly how to do the tests; temperature range, winds, tire rolling resistance and other factors can vary between the automakers' tests and those done by the E.P.A. The tests were done in Korean laboratories and under the terms of the settlement, the automakers must build another center for testing vehicle fuel economy which must be American-based.