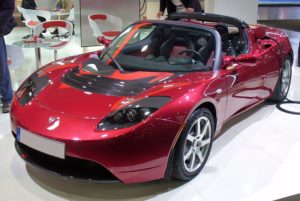 Ferrari to challenge Tesla with an electric supercar.
Ferrari claims it is building an all-electric supercar that will compete with the next-generation Tesla Roadster and the Italian carmaker will be the first company to bring an EV supercar to market.
Ferrari is challenging Tesla by jumping into the electric car space. Sergio Marchionne, Chief Executive Officer of Fiat Chrysler Automobiles said on Tuesday at the Detroit auto show that the car manufacturer plans to build the first electric supercar. Marchionne said that if there was an electric supercar to be built, then Ferrari would be the first.
Marchionne added that the company is planning to launch its first SUV by late 2019 or maybe early 2020 and that the vehicle will be the fastest SUV on the market.
Ferrari pushing into electric cars is not a surprise as the company said in 2016 that all Ferrari cars would have some hybrid technology by 2019 and last May, Marchionne announced that the luxury supercar manufacturer was moving towards electrification.
When Tesla unveiled a prototype of its next-generation Roadster with record-breaking specs last year, the automaker has turned the world of supercars on its head. At Roadster's launch in November, Tesla CEO Elon Musk said that they were planning to bring the next generation Roadster to production in 2020.
Now the Italian luxury supercar manufacturer wants to try to beat Tesla at its own game.
According to Business Insider.