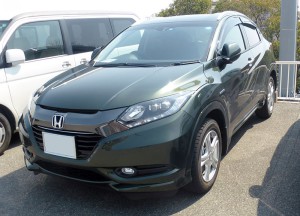 The Honda Civic and the Volvo XC90 won the prestigious awards at the 2016 North American International Auto Show. The winners were unveiled at the start of press previews for the Detroit Auto Show.
The 2016 Volvo XC90 midsize crossover SUV was awarded the best sport utility vehicle for 2016 on the opening day of the 2016 North American International Auto Show held at Cobo Center in downtown Detroit on Monday, January 11. The Honda Civic was announced as the North American Car of the Year.
A panel of fifty-three independent automotive journalists from Canada and the United States have voted on winners from the list of finalists. To win the award, a vehicle must be all new or substantially changed for eligibility. Both Honda and Volvo were previous winners. The Civic won in 2006 and the XC90 in 2003. This was the 23rd year for the awards. The awards program launched for the first time in 1993, and patterned itself after the European Car of the Year. Organizers accept no advertising, though automakers try to capitalize on the marketing value of the awards.
The other finalists in the car category were the Chevrolet Malibu and Mazda MX-5 Miata sports car. Volvo beat out the Honda Pilot and Nissan Titan pickup. Chevy was a strong competitor for the award. It had two additional cars on the pre-finalist short list of 10. For the first time in the 23-year history of the awards program a brand had three representatives on the short list.
John Mendel, executive vice president of Honda's U.S. operations said that it was "a great competitive set to be in with Malibu and Miata- all great cars." He added that the award "added pressure" to the team already working on the next-generation Civic. Volvo intends to use the award in its marketing as it rolls out other new models, noted Lex Kerssemakers, president and CEO for the Americas.