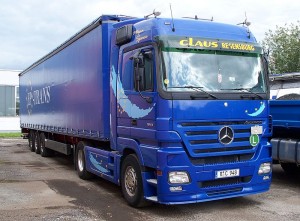 The largest battery factory in Europe is being built by Daimler.
Daimler, one of the few major automakers developing all-electric vehicles, begins construction on a $562 million lithium-ion battery factory in Germany, officials unveiled a few days ago. The German automaker is planning to spend $11 billion on 10 new electric models that would be brought to the market by 2022.
Mercedes-Benz manufacturer Daimler is currently producing its own battery packs through its ACCUmotive subsidiary. A few months ago, they announced an important multi-million investment in a new battery plant in Kamenz, Germany, which will assemble lithium-ion battery packs for Mercedes and Maybach vehicles, as well as energy storage batteries.
The new production facility will be environmentally conscious. Mercedes says that the factory will be carbon-dioxide neutral. The facilities will be supplied with energy from a combined heat and power plant and solar power – a photovoltaic plant in combination with stationary battery storage units. By the end of 2020, the factory will have a total of over 1,000 employees and thus today's number will be more than doubled.
The new production facility will stretch across 262,000 feet. It is scheduled to go into operation in mid-2018- just in time for Mercedes' first all-electric vehicle- the new 'EQ' SUV. In addition, the German automaker has several other electric vehicle programs, like its all-electric Urban eTruck. Daimler is also currently building 1,500 all-electric Mercedes-Benz vans for Germany's largest independent logistic firm, Hermes.
Last week, Daimler subsidiary Mercedes-Benz Energy has entered into a partnership with Vivint Solar to Solar to sell residential storage batteries along with solar panels in California.
Major battery factories are currently under construction in other European countries: Poland, Hungary, and Sweden. However, some of these factories are actually being built by Asian giants planning to move into Europe. There are also eight battery factories under construction in China.