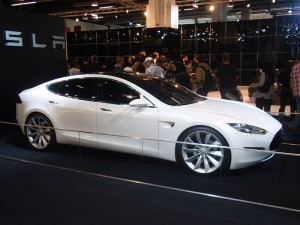 Tesla bucks the tradition and the company is going to release the Model 3 with a single central display.
After almost a year of rumors and speculation, Elon Musk has confirmed that Model 3 will not feature a head-up display. That means everything, from navigation to music, will be on the one display.
There will not be a traditional gauge cluster behind the steering wheel, and no head-up display, either; no speedometer, fuel gauge, temperature gauges, rev counter, or even a clock in front of the driver.
Elon Musk was asked by a follower on Twitter how Tesla will display the speedometer and other information that we usually see on the instrument cluster, he said that this information is not important with autonomous cars. A follower of Musk on Twitter begged for Model 3 to have a traditional speedometer, but Elon just reminded that we don't usually look at the instrument panel while being driven in a taxi.
We already knew the fact that Model 3 would be equipped with an ultra-minimalist interior, and one of the previous presentations of the car suggested all of the user interface information would be located on a center-mounted dashboard.
The follower said that he couldn't get used to the lack of a dashboard and it would be the only thing he won't like about the car. Musk suggested the man to wait to see the real steering controls and system for the Model 3 as it will be like a spaceship.