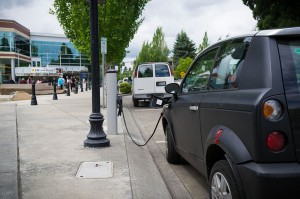 Daimler is planning to invest $1 billion into electric car production in its Alabama plant, the company said Thursday in a statement.
Daimler will try to take on Tesla's Model X by making Daimler the first European company to assemble electric SUV in the U.S. as it is starting to assemble electric sport utility vehicles in its facility in Alabama.
Daimler, the parent company of luxury automaker Mercedes-Benz, announced plans to invest $1 billion to start production of plug-in autos in the U.S.
The Stuttgart-based company will use the sum to expand the 20-year-old Vance facility, in Alabama, where Mercedes already makes SUVs. The company over Mercedes-Benz will build EQ battery packs and utility vehicles. According to the company, the new developments will create more than 600 new jobs in the region. The German automaker will start the construction in 2018 and it will be its fifth battery plant globally.
Production chief Markus Schaefer said that they are celebrating their 20th anniversary at their production facility in Alabama, and this is an opportunity to expand the operation. He added that Daimler is confident for future growth in the U.S. in the long-term.
Daimler says the new EQ SUV will feature an estimated range of 310 miles per charge, as well as the "latest status of automated driving" when it launches, Production will begin at the start of the next decade.