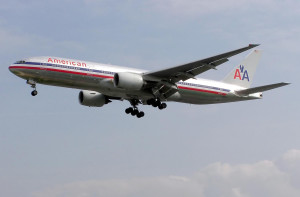 American Airlines computer systems were restored and the ground stop has been lifted Thursday after earlier "technical issues" at several airports across the country, the airline said.
American Airlines flights to and from Chicago, Dallas and Miami have been temporarily grounded because of an apparent glitch in one of the carrier's computer systems and that prevented passengers from checking in. The computer systems were fixed after less than two hours.
The Federal Aviation Administration first reported the outage. Officials from the FAA said that the cause of the ground stop was "airline issues."
The midday glitch affected flights on American and its regional affiliate, American Eagle. Casey Norton, the company spokesman, said that American Airlines planes destined for Miami (MIA), Chicago O'Hare (ORD) and Dallas-Fort Worth (DFW) international airports were held on the ground at other airports.
Six American Eagle flights in Chicago were canceled. About 300 American and Eagle flights were reported delayed by an average of more than an hour. Computers at the three big hub airports didn't allow passengers to check in for flights, and customers were unable to make reservations, confirmed officials from the airline.
Thousands of passengers were stranded at O'Hare Airport, Dallas-Fort Worth International Airport and Miami International Airport.
American Airlines officials said they were still trying to determine the exact cause of the interruption but there was no indication that the computers had been hacked.
The glitch follows similar computer problems at the company in recent years. Airlines experienced delays due to technical failure at Washington's Reagan National Airport only a month ago. Besides, in July, United Airlines flights had been halted for more than an hour because of a network router problem.