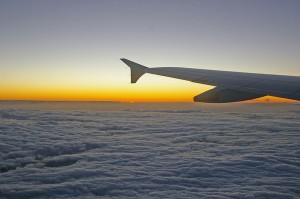 Instead of windows, screens lining the cabin project images of the sky outside and the passengers would be able to enjoy "a wonderful panoramic view of the outside world" said Vik Kachoria, president of Spike Aerospace, US company that announced its plans to include windowless cabin in its Spike S-512 Supersonic Jet, set to be launched in 2018. However, he said the company will include several windows for emergency purposes.
Other companies are exploring similar ideas. Technicon Design, a Paris-based design company, recently received an award for their IXION Windowless Jet Concept. Cameras mounted on the craft's exterior capture the scenery and then project it on high-resolution screens on the interior walls and ceiling providing a 360-degree view. Images from other places, films and work presentations could be displayed as well.
By replacing the windows with an interactive display screen, not only the weight of the plane is reduced, but also it helps reducing the needed materials as well as the fuel costs.
At least, we would no more have to fight over window seats.