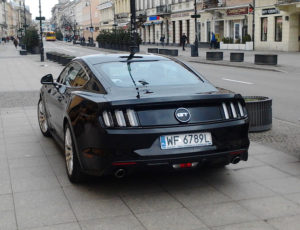 2018 Mustang GT hits 0-60 in under 4 seconds with an all-new 10-speed automatic transmission.
Ford announced Monday the power and torque figures for the 2018 Mustang lineup. The automaker promises impressive improvements for both models: the V8-powered GT and 4-cylinder-powered EcoBoost.
The 2018 Mustang GT will be the fastest Mustang to date, capable of 0-60 mph acceleration in less than four seconds which puts the GT ahead of the quickest sports cars, including the Porsche 911.
The new Mustang GT features an improved 5.0-liter V8 engine that generates 460 horsepower and 420 pound-feet of torque. That is an impressive upgrade over the 2017 model with its 435 horsepower and 400 pound-feet. For the first time, Mustang will use the new 10-speed transmission with quicker shifts and better low-speed response than the outgoing 6-speed automatic one. All that hardware will be used to maximum effect thanks to the software that added a fifth option to the selectable drive mode system for 2018, drag strip mode. It turns out all those changes actually make the new GT quickest off the line, even surpassing the considerably more expensive, limited production Shelby GT350.
The 2018Mustang EcoBoost also boasts increased performance. Torque increases from 320 to 350 pound-feet, though it retains its 310 horsepower rating. The new Mustang EcoBoost manages its best 0-60 time with the 10-speed auto gearbox and the optional Performance Package. Equipped as such, it is capable of getting to 60 in less than 5 seconds.
The new Mustang will be available this fall. Pricing has not yet been announced.