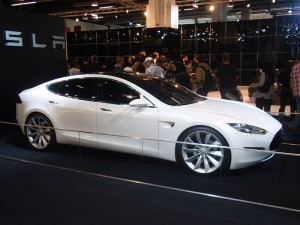 Electric car maker Tesla Motors has marked July 29 as the date for its Gigafactory Grand opening celebration. The official event will take place outside of Reno, Nevada on the night of July 29th. The company noted the date in the invitations sent out to Model S buyers who had won tickets to Grand opening by referring more than five other customers. It was confirmed by Tesla that a customer-oriented special event will be hold that night.
For almost two years now, Tesla Motors has been building the largest battery factory on the Earth in the Nevada desert. The massive factory, which will cost at least $5 billion to build, is expected to revolutionize the way consumers use energy at home. The Gigafactory was only 14% completed of the beginning of May. Although the plant won't likely be fully completed within the next two months, the company has been hosting smaller events in the areas of the factory where construction is already completed. In March, Tesla hosted state legislators, government officials and prominent renewable energy advocates for talks about the future of solar energy in the Silver State.
Once completed, the massive factory will be 100 percent powered by renewable energy sources and it will aim to achieve net zero energy.
The Gigafactory will have a total operational space of 13 million square feet. If the Gigafactory really ends up with 24 million square-foot footprint, that would make it the largest building in the world.