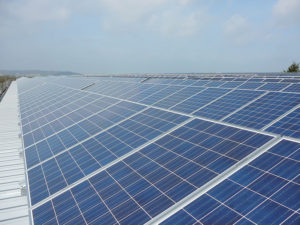 Tesla Inc. has just sent hundreds of Powerwall battery systems to Puerto Rico. Tesla employees have been sent to install the battery systems on the island.
The island still does not have electricity in the wake of Hurricane Maria, a category 4 Hurricane that tore through the Caribbean more than a week ago. Over 3 million citizens in the American Commonwealth will most likely not have electricity for up to six months.
The hurricane destroyed the electricity grid on the island, killed 16 people and injured much more. Electricity is being only provided to high-priority buildings such as hospitals.
The solar systems that are already there are being currently repaired and new ones will be installed. The employees are coordinating their efforts with local organizations to identify the best locations for the power banks.
The Powerwall systems were first unveiled in 2015. They are large batteries designed to store energy for homes powered by solar panels. The lithium-ion battery is rechargeable and with liquid thermal control. Tesla launched an updated version in 2016 at a cost of $5,500. Powerwall 2.0 stores excess energy produced by solar panels during the day for use later when the sun goes down. The system also comes with a 10-year warranty.
Tesla also helped those owners of Tesla cars affected by Hurricane Irma. When a Tesla owner requested an extended battery range while preparing to evacuate their home but didn't know if their car would have enough energy in the battery.
Other tech companies also wanted to join in the hurricane relief efforts. Facebook sent a connectivity team to supply emergency telecommunications support to the island.
According to interestingengineering.com