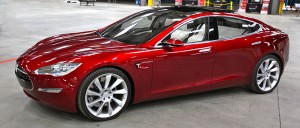 Tesla Inc has recalled nearly two-thirds of Model S and Model X vehicles made last year to fix a parking brake issue.
Following the biggest ever recall for the company, announced on Thursday, shares of the luxury electric car maker were down nearly 1 percent to settle at $302.77 in afternoon trading.
The vehicles affected are roughly 53,000 of Model S and Model X electric cars built between February and October of 2016. 31,000 of them were sold in the U.S.
Tesla said that less than 5 percent, perhaps as low as 2 percent, of the electric vehicles being recalled, are likely to be affected: the parking brake might stick in the engaged position. The company added that it was working with Italian supplier Freni Brembo to get the replacement parts. The company said repairs can start immediately and it will have enough parts for all affected cars. It would take less than 45 minutes to replace the faulty electronic parking brakes. The recall process is starting now. An official recall notice would be sent to Tesla's customers. Tesla says the process is expected to be completed by October if all 53,000 vehicles are returned for inspection.
Last year, Tesla announced it would recall 2,700 of the earliest Model X electric crossover vehicles in the United States due to a faulty locking hinge in third-row seats.
The car maker said there had been no accidents or injuries due to the brake issue.