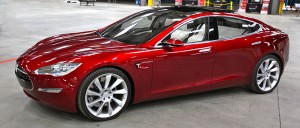 Jaguar-Land Rover, Tesla and MINI have all announced that they will not attend next month's Detroit Auto Show. However, NAIAS organizers promise big CEO presence at the first big auto show of the 2016 calendar year.
Three high-profile auto companies have each said that they will not participate in the 2016 North American International Auto Show (NAIAS) that takes place in Detroit, Michigan every January.
California-based Tesla backed out last Thursday, joining the BMW-owned Mini brand and the U.K.-based Jaguar and Land Rover brands owned by Tata Motors of India, which also will not be seen at the upcoming event.
The 2016 North American International Auto Show will open its doors to the media on 11th of January and to the public on 16th.
However, in spite of Tesla, Mini, and Jaguar and Land Rover's absence, according to the NAIAS executive director Rod Alberts, things at the Detroit auto show even look promising: 45 to 50 vehicle introductions are expected, out of which 90 percent will be global debuts. In addition, important CEOs will be there for the press days, including some who don't usually attend auto shows. NAIAS says all the floor space at Detroit's Cobo Convention Center will be full.
A spokesman for the show said that the decision by three of the world's most recognizable automakers was made because the timing with the January 11 press preview show does not line up with each brand's scheduled releases.
Tesla's absence is not particularly shocking. The electric car company has stated that while it has a good relationship with NAIAS, the reason behind Tesla's decision is that the state of Michigan does not allow direct vehicle sales, but only through dealerships.
Those three are certainly a loss for the show. There is some good news, though. According to the NAIAS spokesman, the extra space that was set aside for the three brands will be given to Aston Martin that will return to Detroit for the first time since 2009.
Besides, Detroit is best known for being the place where the Big Three US automakers- General Motors, Ford and Fiat-Chrysler usually unveil their super-high-end vehicles.