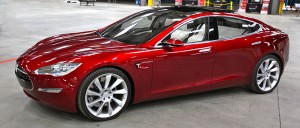 A stolen Tesla Model S 85D was tracked down using a smartphone app and  returned to owners within hours.
Katya Pinkowski, a Vancouver resident and Tesla Model S owner, went to see a concert a few days ago. When it was over, she returned to the car in an underground parking lot and found out it was missing. It is never fun to find an empty space at the place you left your car. After a car theft, it usually takes owners weeks or even years to retrieve their property. Fortunately, Tesla's smartphone app allows owners to access certain features of their vehicles. Along with climate control, charge state, the app offers real-time location tracking.
After making sure her car didn't get towed by calling the company that services the lot, Katya knew it had been stolen. Her next call was to her husband, Cary, who quickly checked Tesla's iPhone app to find out the location of the vehicle and track its movements.
Then Cary Pinkowski called 911 and relayed the vehicle's location in real time to the operator. The Pinkowskis debated about contacting Tesla to stop the car remotedly, or operate the vehicle's horn or sunroof through the app, but decided to let the police to handle the situation. Eventually, the RCMP (the Canadian federal police) stopped the vehicle, arrested the 24-year old thief and returned the stolen car to the Pinkowskis. The young man is now facing serious charges.
How could the thief get inside such a high-tech car? It turns out a spare wireless key fob was mistakenly left inside the car; this left the vehicle basically unlocked.
Car thieves, take ​note that Teslas are not so easy target as the car's real time position is monitored.