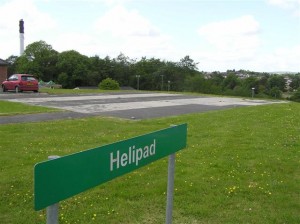 Flyers have a new option for getting between Manhattan and either New York JFK or Newark Liberty airports, a luxury helicopter ride from Gotham Air.
Gotham Air has partnered with Helicopter Flight Services that has a fleet of helicopters, to offer chopper service at a price, which is supposed to be cheap enough for everyone, from heliports in Manhattan. The flight can take about 6 minutes, compared to an hour or two in ground traffic. First time riders can book a $99 flat rate flight, after that prices will range from $199 to $219, depending on the time of day and the airport. The company promises to have regularly scheduled flights by spring 2015 and the riders would be able to select a departure from one of three Gotham Air heliports in Manhattan.
Gotham Air will fly seven days a week and the service will also expand to other public and private airports and helipads, and increase from a few flights a day to every hour, said Gotham Air CEO Tim Hayes in a statement in a press release only a week ago.
Although it seems unnecessary for a six-minute flight, complimentary hors d'oeuvres served by world renowned Chef Thomas Keller's Bouchon Bakery, as well as drinks on afternoon flights. In addition, on rare occasions when winds or low clouds make flying a problem, Gotham will send a sleek Tesla S to your home or office to drive you to the airport.
For now, bookings are only made on the Gotham website and a mobile booking application will be available in February. Unfortunately, flights are only confirmed when four seats have been sold.
Are you planning on giving Gotham Air a try?