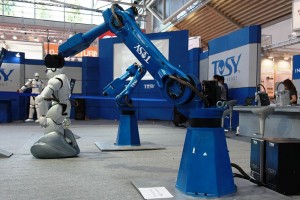 An automotive assembly line robot killed a worker at one of Volkswagen production plants in central Germany last week, the company's spokesman Heiko Hillwig said in an official statement.
The 22-old man was grabbed by a robot and pressed up against a large metal plate which crushed his chest. The tragedy happened in Baunatal, which is near Kessel and about 60 miles north of Frankfurt. The man was part of a team that was setting up the stationary robot when, suddenly, the machine grabbed him. Volkswagen officials did not release the man's name and declined to give any further details about the incident because of the ongoing investigation.
The man was a contract worker from a firm based in Meissen, eastern Germany. At the factory in Baunatal 15,000 people are employed to assemble gearboxes and other car parts. The employee was resuscitated at the scene. However, despite efforts to revive him, the man died from his injuries at a hospital. A second contractor was reportedly present at the time of the incident but he was unharmed.
In order to prevent contact with humans, robots are generally kept within a confined area at the plant, while grabbing auto parts and manipulating them. However, the victim was reportedly working inside the safety cage, when the incident happened.
Hillwig said that initial reports suggested human error may have been to blame rather than a problem with the robot. The robot involved in the tragedy is programmed to perform various tasks during the assembly process and could not be held responsible.
Workplace deaths caused by robots are highly unusual. According to government data, robots have caused 26 deaths for the last 30 years. The first recorded robot related death occurred in 1971 at a car production line at a Fod plant in Flat Rock, Michigan. A worker died after being struck in the head by a robotic arm.
Robots, turning on their human masters have long been depicted in science fiction; however, experts firmly reject the idea.