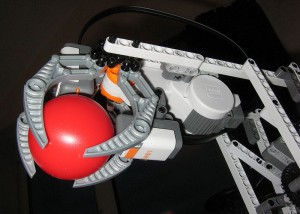 Yobot, a unique high-tech amenity of the new Yotel Hotel, is a robot that is designed to place guests' luggage in a locker for them before or after checking in the hotel. The 669-room Yotel is located at Times Square West in Manhattan. The Yotel brand operates three other hotels in London and Amsterdam.
The robot is placed at the entrance of the hotel behind a secure glass wall where hotel guests can watch it in action. Guests use a touchscreen to enter the number and size of their bags. Te 20-foot tall robotic arm brings a box where the guest places their luggage and enters a pin number and last name. The container is weighed and stored in one of 117 lockers. Then the robot issues a receipt with bar code for the subsequent bag retrieval.
Yobot is an ABB IRB 6640 industrial robot, used all over the world to transport materials. The system was designed by MFG Automation of Ashford, Connecticut and modified for the hotel. The robot can handle 500 pounds and on a busy day it lifts up around 300 pieces of luggage.
Luggage storage is not the only automated service offered by the hotel. There are also kiosks for self check-in and 95 per cent of all check-ins are done electronically by kiosk.
Yotel's general manager, Claes Landberg says that their Yobot allows "the staff to focus on the guests' need instead of just storing a piece of luggage."
The robot works 24/7 and from Yotel wouldn't comment how much money they are saving by using automated systems instead of human employees.