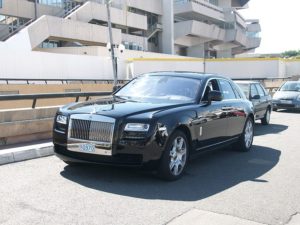 "Gucci Gang" rapper Lil Pump was arrested in Florida when he was pulled over while driving his Rolls-Royce with the incorrect license plates.
The 18-year-old rapper, whose real name is Gazzy Garcia, was pulled over while driving his Rolls-Royce through Miami's Little Havana neighborhood Wednesday afternoon and was taken into custody by police.
The police noticed that the license plate on his Rolls-Royce actually belonged to a Mini Cooper, a spokesperson for the Miami Police Department confirmed.
The 18-year-old "Gucci Gang" rapper also told police that he did not have a driver's license. The rapper was being held on $500 bond at Miami-Dade County's Turner Guilford Knight Correctional Center.
This is not the up-and-coming star's first brush with the law. In February, Pump was arrested for a firing a gun in his home in California after police determined his story of a would-be break-in was bogus. He was taken to a juvenile delinquent center at the time, as he was 17 and his mother was under investigation for child endangerment and for having an unsecured gun in the apartment.
Pump's self-titled debut album was released in October, and his most recent single, "Drug Addicts," cracked the Billboard Hot 100 in July thanks to a music video starring Charlie Sheen.
According to Page Six.