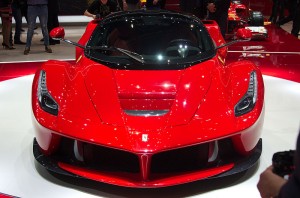 If you've got a spare $2.7million, you could buy the most powerful and the most expensive Ferrari that has ever been made. Tantalizing details on the new LaFerrari FXX K were revealed at one of the world's most spectacular circuits, the Yas Marina in Abu Dhabi during the Finali Mondiali, held from December 3 to 6.
The track-only FXX K is based on the LaFerrari hypercar, but it is expected to be much faster with its 1.036 brake horsepower and more than 663 pound-feet of torque. The new Ferrari pinnacle of Italian car manufacturer's engineering department is combining F1 technology with an extreme aerodynamic package. It car can accelerate from 0-62 mph in less than three seconds.
The new model boasts an 848HP V12 engine and seven-speed dual-clutch transmission, linked to a pair of electric motors with 187HP. By comparison, the previous model features a 789HP engine and can generate only 160HP. Italian carmaker has also removed the silencers from the exhaust and the hybrid race car will have a deafening roar.
The "K" in the name stands for KERS – the kinetic energy recovery system that has been used in Formula One for years and stores energy harnessed from braking which maximizes the track performance.
Regrettably, the entire run of 32 cars is already sold out to pre-selected customers. Like its XX predecessors, the FXX K isn't road legal, but it's not a race car either. The buyers are only allowed to drive the car at special Ferrari track days.
Maybe it's time to look for another way to spend your $2.7million.