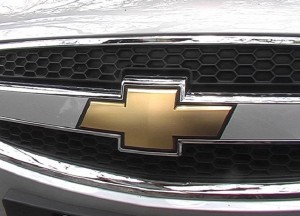 General Motors has taken the wraps off its new Chevrolet-FNR at the Shanghai GM Gala Night during the celebration of the 10th Anniversary of the brand in China.
The Chevrolet's latest innovation is an autonomous electrical concept developed and designed in Shanghai by the company's Pan Asia Technical Automotive Centre (PATAC) joint venture.
General Motors said the car offered a 'glimpse at mobility of the future.' They said their aim was to create 'a unique, intelligent vehicle for tomorrow's younger consumers by utilizing innovative car networking technology.' The concept self-driving car looks like something plucked straight from the future. It has a styling that grabs your attention from the very start: a futuristic mostly glass capsule design with 'dragonfly' dual swing doors that open upwards and crystal laser headlights and taillights. It also boasts magnetic hubless wheel electric motors and a wireless auto charging system.
Other gizmos to come with the new car include iris recognition software: you can't start the car without it recognizing your eye's iris. While in self-driving mode, the system uses various sensors and roof-mounted radar which map the surrounding environment and help determine the best route to your destination. In addition, you can always count on an artificially intelligent personal assistant. The car's front seats can swivel 180 degrees to face the rear seats, so the passengers can chat in a more private atmosphere while the vehicle navigates itself. The driver can switch to manual control by using a gesture control feature.
However, no release date was announced, as the car is just a concept, noted the officials from the company.
 Enjoy the new Chevrolet concept here.