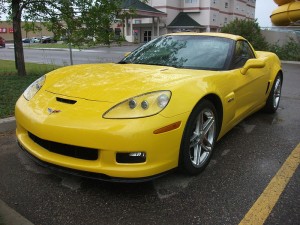 General Motors has recently announced details of the 2015 Corvette Z06. It seems the 650-horsepower Chevrolet Corvette is the fastest car the company has ever made. The new Chevy is the first front-engine, rear-wheel-drive car that breaks the three-second barrier.
With advanced technologies, the 2015 Z06 is a world-class supercar. It is equipped with high-performance  eight-speed automatic transmission with paddle shifters and the all-new supercharged 6.2-liter LT4 V8 engine making an SAE-sertified 650 hp and 650 lb-ft of torque.
The new Corvette Z06 features Z07 Performance Package: Michelin Pilot Sport Cup 2 tires and Brembo carbon ceramic brake rotors, including a full aerodynamic package.
General Motors spokesman Monte Doran says the new version of the Chevrolet Corvette can go from zero to 60 miles per hour in 2.95 seconds. And there's more: it can finish a quarter-mile in 10.95 seconds with the automatic and 11.2 seconds with the manual; it takes less than 100 feet to stop from 60 mph. That stopping distance is the best result of any production car previously tested by the company. The beast can reach 127 mph in one-quarter mile.
The 2015 Corvette Z06 is going on sale next year and is set to be a bargain-priced supercar. The coupe comes with a base price of $78,995 and is scheduled to go on sale in early 2015; the convertible starts at $83, 995 and goes on sale in the second quarter of 2015.
It's never too late to start saving!