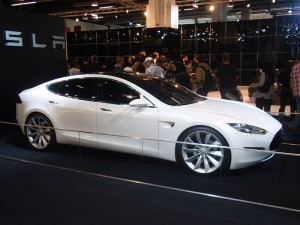 Tesla expects to finalize locations for three more Gigafactories later this year, the company revealed Wednesday.
Telsa has currently two Gigafactories. The first one, Gigafactory 1, is located outside of Reno, Nevada and the facility in Buffalo where Tesla is building solar panels together with Panasonic.
Gigafactory 1 spreads on about 3,200 acres in a massive industrial center. The current structure of the factory features a footprint of 1.9 million square feet with 4.9 million square feet of operational space across several floors. By now about 30% of the factory is complete. The facility is planned to hit full capacity at some point next year. Once it is completed, the plant will have more than 10 million square feet of operational space. Then it would split production between Tesla energy storage products and battery packs for electric vehicles. The $5 billion facility is expected to triple the worldwide production of li-ion batteries.The factory will also make electric motors for the Model 3.
Tesla's Gigafactory 2 is the solar plant in Buffalo, New York, where Tesla has partnered with Panasonic to build solar cells and modules. The $750 million solar facility will produce a gigawatt of high-efficiency solar panels per year.
In a shareholder letter, Musk says that later this year his company will "finalize locations for Gigafactories 3, 4 and possibly 5."
There is no further information about the location of the next plant, but Musk said it could be somewhere in Europe and that the company will decide on the location this year.