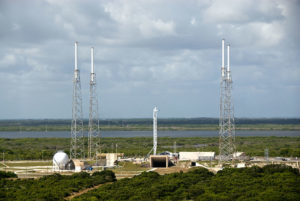 SpaceX is planning to launch two private investors on a one-week mission around the moon, said Elon Musk during a telephone news conference on Monday.
In order to complete the mission, the company will use its new Dragon 2 space capsule and Falcon Heavy rockets. The trip would cost more than $300 million.
The SpaceX CEO, Elon Musk, said that they are planning to send two travelers around the moon and back to Earth before the end of next year. The two tourists would spend about a week inside one of SpaceX's new Dragon 2 capsules, launched on the company's Falcon Heavy rocket.
The journey would take about a week, and the spacecraft would fly past the surface of the moon without landing on it and continue outward before gravity turns the spacecraft around and brings it back to Earth. The total flight would go about 400,000 miles into space, said Elon Musk,  meaning the mission could take humans farther from Earth than ever before.
The spacecraft would be automated but the customers would undergo health and fitness tests, as well as training for emergency procedures later this year. Musk acknowledged that the mission would be dangerous but his company is doing "everything to minimize the risk" and travelers have "their eyes open". Musk added that he expected to do "more than one mission of this nature.