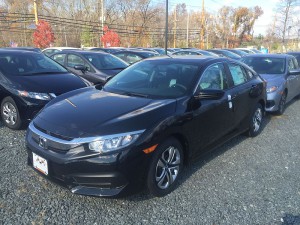 Honda Motor Co. has recently announced the release of its entry-level vehicle Civic LX sedan with automated safety features and advanced-driver assistance system which makes some of the most sophisticated technology on the market accessible to significantly more customers. The vehicle costs only $20,440.
The new Civic LX can be equipped with advanced-driver assistance systems, known as ADAS. The system keeps a vehicle in its lane and features automatic braking and cruise control. During the tests the new Civic proved it could navigate the majority of the 25-mile Metro Detroit road course with arms off the wheel and foot off the accelerator and brakes. The system, however, is dependent upon line markings remaining visible and another vehicle in front to maintain a safe following distance. The vehicle is equipped with a digital camera mounted on the rearview mirror to watch the street. The camera is part of complementary advanced-driver assistance systems (ADAS) including lane-keeping assist, automatic braking, and adaptive cruise control. The system tells the car when it should slow down, veer, or slam the brakes. The ADAS technology is thought to mitigate the dangerous effects of distracted driving.
Auto makers advise against characterizing ADAS-equipped cars as "self-driving" for the reason that questions about liability if the system makes a mistake, have been raised.
Nevertheless, the low price of the new Civic LX is noteworthy as it makes the ADAS technology accessible to significantly more young drivers.