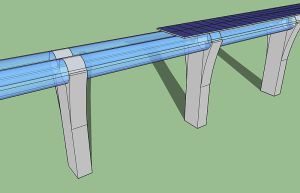 Ultra-fast hyperloop train will travel from Dubai to Abu Dhabi in 12 minutes.
The futuristic Dubai has agreed a deal with Los Angeles-based startup Hyperloop One to study the potential for building a near-supersonic transport line linking it to Emirati capital Abu Dhabi. The announcement of the deal was made at the top of the world's tallest building, the Burj Khalifa.
The transportation system would cut travel times between the two cities, 90 miles apart, to around 12 minutes. A standard car journey between the two cities takes between 1 hour and 30 minutes and 2 hours.
This electromagnetic Hyperloop would be the first train of its kind in the world, featuring radical pods without wheels that travel through low-pressure transit tubes at a top speed of 760 miles per hour.
The concept of Hyperloop train first was proposed by Tesla and SpaceX founder Elon Musk in 2013 and is currently being developed indepedndently by two companies. Hyperloop One is one of the firms developing the technology and the other is Hyperloop Transportation Technologies that has been working with SNCF, the French railway company.
Dubai recently hosted a competition for the project's design and the winner was Hyperloop One. The company signed the deal with Dubai authorities only a few days ago.
The company said it will need five years to build the system. However, the first Hyperloop test could happen next year. In addition to the transportation system between the two UAE cities, there are plans for another 50-minute Hyperloop link between Dubai and Riyad to be build.