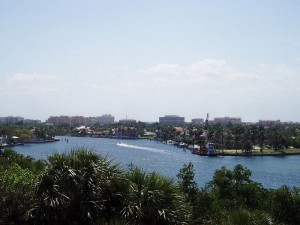 Boca Raton Resort & Club, the luxury resort, completed a $30 million makeover of its historic Cloister building just a month ago. The building has 318 luxury rooms and suites and many of them were part of the iconic Cloister Inn from the very beginning of its creation in 1925, fine examples of Spanish Colonial Mediterranean-style.
Waldorf Astoria Hotels & Resorts began extensive improvements last year, that include refreshment of its restaurants, lobby and common areas and the upgrade continue with $1.3 million renovation of the Health Club and the debut of Flow House Boca boasting a dual-sided FlowRider wave simulator. In spring 2013 a surfing school was added.
After the revamp and with an investment of more than $100,000 per room, the Cloister Inn's rooms and suites feature elegant décor, expansive bathrooms and luxury furnishings where historical ambiance blends with modern comforts.
From arrival to departure, the guests of Boca Raton Resort & Club enjoy the unique True Waldorf Service, featuring a personal concierge to each guest that guarantee every want and request is met. Boca Raton Resort & Club is currently made up of 4 hotels including two golf courses, three swimming pools, 9 restaurants and a private beach.
The Boca Raton Resort & Club was originally founded by the talented architect Addison Mizner who initially built a 100 room hotel on the west side of Lake Boca Raton, calling it The Cloister Inn, as part of his dream to create "the world's most architecturally beautiful playground" with miles of "paved and landscaped streets, golf courses, polo fields, elegant shopping vistas, and luxurious mansions for the crème de la crème of world society." He fell in love with the Boca Raton area, and was inspired to create the city of Boca Raton. He built many homes, administration buildings and miles of streets for the new city, Boca Raton. In his Cloister Inn, he put his own antiques in the public areas to save money which added his personal touch.
Addison's dream hotel opened on Christmas Eve 1925, with a dinner party, hosted by Addison and his family. According to historical documents, it was the most expensive hotel of its time. Unfortunately, in 1027 Addison was forced to sell his beloved resort via auction. Throughout the decades, the owners of the Cloister Inn embraced Addison's vision of a high quality resort hotel, added their own improvements, but always having the customer service as a top priorit