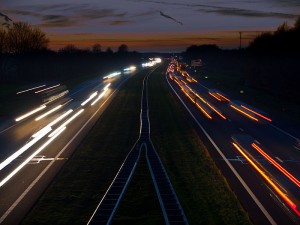 The first glow-in-the-dark road project was piloted on April 10 on a highway near Oss, a city in the southern Netherlands. It was received with great enthusiasm. On a 0,3 mile stretch of the highway traditional streetlights has been replaced by light-absorbing markings that are glowing in the dark.
Daan Roosegaarde, a lead designer and founder of Studio Roosegaarde together with the construction group Heijmans developed a special photo-luminescent powder that, when mixed with ordinary road paint charges up in sunlight and releases a green glow in the dark for up to 10 hours.
The latest technology that is a first-time innovation in road marking if introduced on major roads will illuminate them and make them more efficient and safer.
Another part of the plan includes weather markings. For instance, snowdrops will appear when the temperature drops to a certain level.
According to a report in Dutch News, the team wants to expand the project but they have not received new contracts, so far.