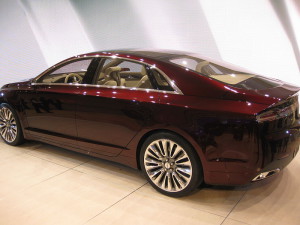 After a nearly 14-year break, Lincoln Continental, the car of presidents, is returning. The new Continental flagship, a full-size sedan, debuted last week at the 2016 North American International Auto Show.
For most of its 99-year history, the Lincoln Continental was the pinnacle of luxury, the car of kings and presidents. The Continental was born in 1938, when Henry Ford's son Edsel commissioned designers to make a convertible he could drive during his spring vacation to Palm Beach. Thrilled by the reception he got as he drove the elegant sedan, Edsel made the Continental part of Ford Motor Co.'s luxury Lincoln lineup. Continental sales peaked at 62,730 in 1990.
However, Ford faltered in the 1990s after Ford had acquired other luxury brands such as Jaguar, Volvo and Aston Martin and underestimated growing competition from Japanese and German luxury brands. Lincoln stopped making the Continental in 2002 so it could focus on newer models, the midsize Lincoln LS and the bigger Town Car. It eventually sold its other luxury brands. Then Lincoln's sales began slipping.
Now, the Lincoln Continental luxury sedan is back. Fourteen years after the last Continental rolled off the assembly line, the company is reviving its storied nameplate as part of a multi-year, multi-billion-dollar comeback. The new Continental will be made in Michigan.
The production version of the luxury sedan is expected to go on sale this fall in the U.S. and China. Ford Motor Co. began selling Lincoln in China last year and the company is currently planning to open more than 20 dealerships there this year.
The Continental hasn't changed much from the concept version that we first saw at New York Auto Show last year. However, its look is more refined.
The 2017 Continental keeps the new grille with Lincoln logos that comes flanked by LED headlights. The elegant Continental has the same gently undulating sides and wraparound taillights. A panoramic sunroof covers nearly the entire surface on the roof. At the rear, the look is almost identical to the one on the last year's concept.
Inside, there are Ford-designed seats that have patented split cushions and can be adjusted up to 30 ways. Passengers can enjoy some amenities such as reclining, heated, cooled and massaging seats, climate controls and sunshades. In addition, there is a specially designed, 19-speaker Revel audio system. Under the hood is a new 3-liter twin-turbocharged V6 EcoBoost engine that is unique to Lincoln. The engine generates 400 horsepower and 400 pound-feet of torque. The model comes with new technologies such as collision warning and pedestrian detection systems, adaptive cruise control with a traffic jam assistant, and 360-degree camera monitoring.