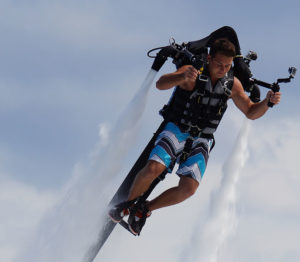 After 35 years in development, the world's consumer jetpack, dubbed Martin Jetpack, will be on sale next year.
Next month, Australia-listed Martin Aircraft Co. will begin manufacturing its carbon-fiber, petrol-powered aircraft that can reach heights of 3,000 feet and speeds up to 46 miles per hour.
The machine was invented in New Zealand by Glenn Martin in 1980s. By 1986, Martin had built a prototype of his jetpack in his garage. He wanted to make a device that could lift a solidly built guy and then stay airborne for as longer as possible.
Martin Aircraft Co. has signed preliminary agreements with several companies, including Dubai Civil Defense department. The firm is currently majority owned by a Chinese aerospace company, Kuang Chi Science. It is valued at about $138 million which means investors are taking the concept jetpack seriously. A factory will be established in China and 1,000 jetpacks will be produced a year.
The previous version features a two-stroke V4 petrol engine that powers two ducted fans that provide airflow to keep the human airborne. The new models use more powerful rotary engine. The jetpack has a ballistic parachute as a safety feature.
The first prototype of the manned jetpack was tested in New Zealand in 2011 and it successfully managed to fly 3,290 feet off the ground, before landing via parachute. An updated version was shown off at the Paris air show where the device could fly 45 minutes.
Accoding to Ruopeng Liu, Kuang-Chi Science chairman, the jetpack will allow people to fly freely. As the machine can get closer to buildings than helicopters, the plan is to deploy jetpacks that can be used to assist the first responder sector, including search and rescue, ambulance, fire and natural disaster recovery, security.
The jetpack will be available for $150,000 in the second half of 2016. Initially, it will be used for emergency services. A jetpack for personal use will be available the following year. There is another unmanned jetpack version that the company is currently developing and it will be used for transporting goods.